Business hopeful's hunt for a Dragon
Posted By Don Fraser, St. Catharines Standard Staff
Saturday, March 27, 2010
It was
Wolf Starchild's
time in the sun.
Starchild
was vying for a chance to shine on the CBC business reality show Dragon's Den on Friday.
He joined a throng waiting nervously for interviews inside the St. Catharines-Thorold Chamber of Commerce education centre.
Those making the cut will pitch their ideas to a panel of Canadian business moguls called "dragons" to try to secure an investment.
Starchild
— his real name — is at the business plan stage of Wolf Trek Walking Tours.
He is an outdoor educator and travel writer and leave-no-trace instructor for outdoor treks.
His dream is to set up Niagara ecological tours with themes like waterfalls, wine and Native American culture.
"I love the outdoors and have a passion for the wilderness," said
Starchild,
32 of Niagara-on-the-Lake. "Niagara offers so many wonderful opportunities to visit wilderness and culturally significant areas."
As for a future dragon verdict: "I hope they (invest) because I think there's nothing out there that's similar to this in the area.
"I think they'll like it."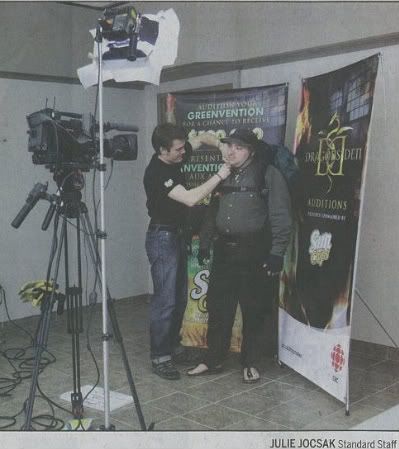 For the first time, there's added Dragon's Den incentive for environmental proposals like
Starchild's,
with SunChips offering $100,000 for the best "greenvention."
People can pitch their green inventions at auditions, or online at www.cbc.ca/dragonsden
For Season Six of the hit show, producers are holding auditions at many other Canadian locations.
Those appearing in front of the dragons are notified within two to four weeks, with the taping in Toronto occurring in late April and May.
Glenn Timak, 47, is a St. Catharines promoter who hopes to get that Dragon's Den call.
"I'm doing a female version of the Harlem Globetrotters," said Timak of his "bikini basketball" concept.
The touring business will involve teams of models and athletes from Canada and the U.S.
"They're not going to be in string bikinis, it's just a name," he said, adding the games will be tasteful and fast-paced.
"They'll be wearing sport (clothing) ... and we're going to be lowering the nets."
Article ID# 2510251